20 Social Media Post Content Ideas for your Social Profiles
October 16th, 2017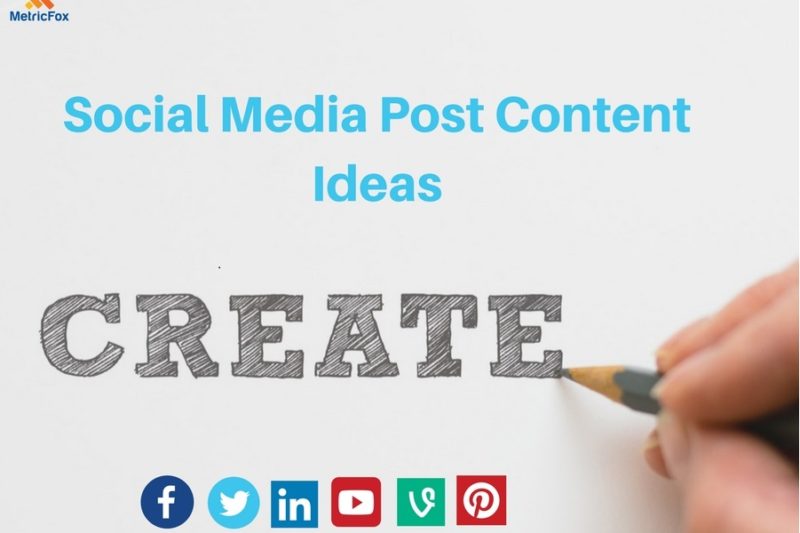 Whether you are a creative person or marketing enthusiast, brainstorming and idea generation is something that you are certainly accustomed to doing. But it's not something easy. Creative minds often face a block when conceptualizing social media content ideas for posts especially considering that as per reports, the global social media users have grown to over 3 billion in August 2017.
Global brands are using social media to promote businesses – and that not only requires the use of a detailed social media calendar but also content that will be used appropriately for social promotions.
Social media strategists usually face the same dilemma:
What content should I share on social media?
How can the content be modified and used as per different channels?
How to create content to use the latest features?
How to use content for maximizing ROI? What metrics should be used? And so on.
There are several ways creative content can be created and shared and the smart strategist will use a combination all of these!
So let's have a quick look at the 20 popular social content pieces for Social sharing from a business perspective:
Introducing New Employees/Remembering Old ones: Organizations are always looking out for better minds to join them – and celebrating such a moment should be done with pomp. Use your social channels to introduce a new employee and tell the world about your new hires. Also, use this space to remember an old employee on their birthdays, anniversaries etc. It builds trust and is a positive gesture.
Company News: Social Media is also a great place to share news and updates. People who follow your page will be able to stay informed on new services, investors, industry updates, market news etc.
Company Awards: Your company has achieved something exemplary – share it with the world with joy! It not only boosts the morale of the employees but also tells the world of a job well done.
For instance, MetricFox recently tweeted about their efforts as a digital marketing agency being recognized in the real estate sector.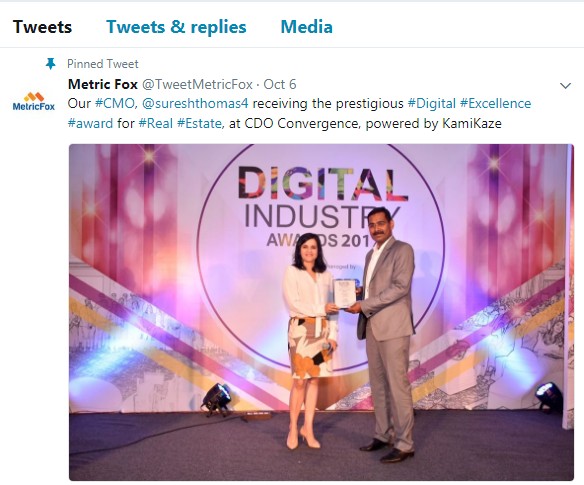 Product Review: This is probably the most commonly used and effective form of posts on social media where companies review a new product. This can be done either by sharing photos, demo-videos, write-ups or any other.
Customer Testimonial: When customers speak well of you, it is something to let everyone else know. Client testimonials are one of the best social media content ideas since it gives confidence to other prospects that people have tried your services and benefited from it.
Deals and Coupons: From the perspective of sales and marketing, nothing is more lucrative than having customers make monetary investments in your brand. Deals and coupons are a good way of spreading brand awareness and gain new customers.
Company #TBT: If you are a regular Facebook user, you must have seen updates from Facebook on what you posted that day the previous year – it's something like a throwback. Companies can also use this as a social media marketing strategy. A #TBT or Throwback Thursday in that sense is a reminder of what the company was years ago.
Behind-the-Scene looks: Use a photograph or video to show followers what goes on inside the office. Ideally, it should be something that people can relate to and is interested in. Content ideas for sharing can consist of bites/images before unveiling or launching a product, a celebration, an event, a contest or any other. You may also include photos of your products being manufactured or the work that goes into delivering a service.
Read: 7 Essential Tips for Small Businesses to get started with Social Media
Recruitment Posts: Social Media, especially LinkedIn can be used for sharing job openings. Encourage present employees to share any opening through personal profiles across social platforms so as to reach out to maximum prospects. Also, referrals are a great way to bring new people onboard, as it saves time and cost in the recruitment and selection process, and brings in people who are more in sync with the culture of the organization.
Webinars: Use social media to promote a webinar! This is a smart way to know your market and prospects and engage with them face-to-face. Webinars are also a contemporary way to generate leads since every individual will need to log in with an email id. This can also be extended to the use of social media for scheduling a Q&A with prospects.
Quotes and Fill-in-the-blank posts: With hashtags like #MondayMorningMotivation being a must at the beginning of the week, why not use motivational and inspirational quotes as a social sharing post? Similarly, fill-in-the-blanks can also be used as a way to engage users on Twitter or Facebook.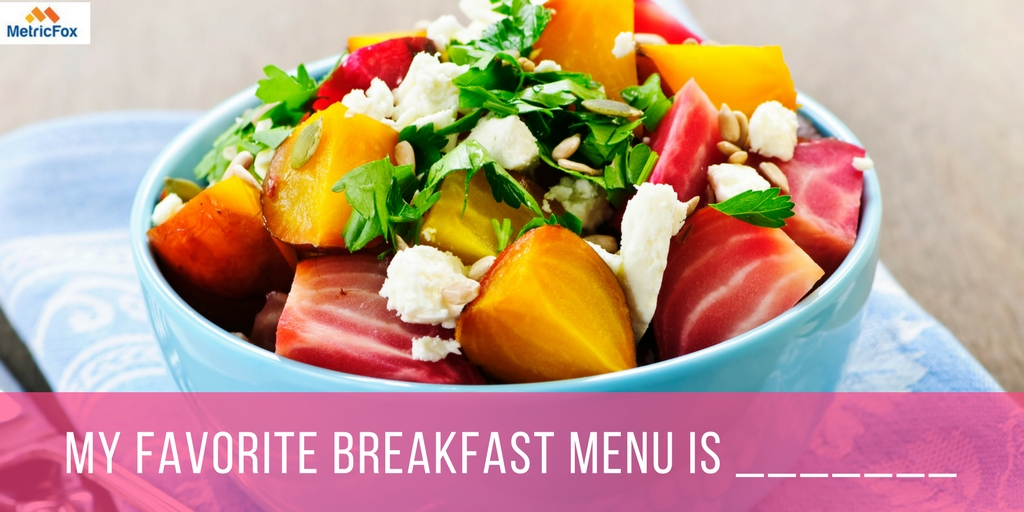 Polls: Available on Twitter and Facebook, polls work wonders for engaging audiences. Though there are built-in-polls in Facebook, these can also be run manually. Of course, it also requires for you to have a fairly large follower base else the desired outcome might not be achieved.
Random Tips: Share business tips with your Audience. Everyone is trying to get better at what they are doing. Share a tip that would prove useful to your audience.
Share a Free Resource Download: Whether it's a guide or 'how-to' list or a checklist, a useful resource should always be shared through social media. Several companies tie up externally for content development services and use useful content as a means for engaging with an audience.
Hold a contest: A contest is a great idea for branding on social media! Hold a relevant contest for followers as a means of audience engagement. A contest should always come with a reward usually as a service or product. From taking photographs and sharing them with hashtags, to writing the best copy for a new product – a contest can be on any relevant subject.
Infographics: Infographics have become a great way to engage audiences through social platforms. Whether through image-sharing sites like Instagram or main-stream social platforms like Facebook and Twitter, infographics can be used across a platform. Any piece of content related to your product or services can be used for making infographics. While some companies have in-house teams working on making infographics, there are others who take help of creative services or simply share infographics made by others.
Holiday and Celebration posts: Celebrating festivals across cultures is a sign of a growing organization. And if you are doing so, share it with the world with pride. Use a hashtag and talk about festivities celebrated in your office through social photos, videos or texts. While posts on big holidays like Diwali or Christmas can be clubbed with other sales offers, the smaller festivals should be celebrated simply for the joy of it.
Thoughts by industry leaders/experts: Even though this is not self-generated content, you can always share the thoughts of industry leaders. Thought leaders and industry stalwarts will usually have many followers and sharing their content is an easy way to get your brand noticed by a wider audience base.
A CSR or event attended: As an organization, if you are into CSR activities then why not talk about it as well? A photograph or short tweet on the event is a quick way to get your brand noticed and have people talking. Similarly, if as an employee you are attending an event (like a marathon) or training session, why not use it as content for social sharing?
Repeat something that's worked: There are hundreds of social strategies that can help your business prosper. Some will work, some will not. Why not do a repeat of something that has worked for your brand previously? Of course, this requires a proper audit, monitoring, analysis, reports etc. for which most organization hire professional social media marketing agencies. So put your best minds at work and start digging into your social profiles to see what generated the maximum shares, re-tweets, likes, comments and more.
Check In: Social Media Checklist
Content ideation is challenging – but not for the smart marketer. Social media is one of the most prominent forms of digital marketing and combining both, the right strategy can be built for your brand.
With the right content ideas and social strategies, you don't really have to reinvent the wheel!
Suresh Thomas, CMO MetricFox has been instrumental in devising growth-driven marketing strategies for Top B2B companies across the globe. He is extremely passionate about maximizing the overall brand presence of every enterprise he collaborates with. As an expert with more than 18+ years of experience in the data-driven marketing space, he is consulted by Top Fortunes world over to refine and devise innovative marketing campaigns that boost MROI & brand value.