June 2017: Digital Marketing Roundup Month In A Minute
July 2nd, 2017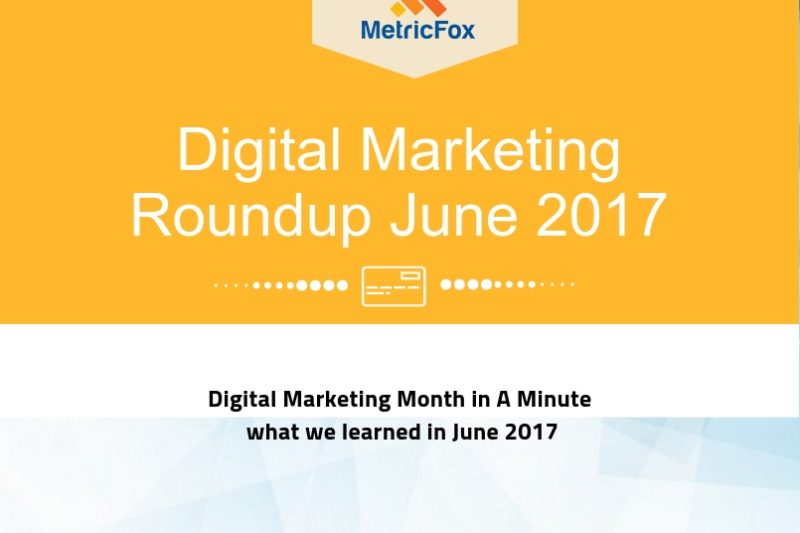 It's the middle of 2017, and there's a lot that has happened in the world of digital marketing and social media already. June 2017 has been an eventful month; with Amazon acquiring Whole Foods and Google fined $2.7 billion by the European Union, there's a lot happening in the digital arena! Here's a list of the month's top digital marketing stories for you to be up-to-date with!
Google to stop scanning emails to serve ads
In business it is often necessary to bring an end to certain practices so as to make way for another. In Google's case, they finally had to bring an end to scanning free Gmail accounts so as to build trust and credibility for their GSuite corporate customers. Google's business model provides free emails to users – but for a price.
Google has always scanned their free Gmail user's inboxes to serve their targeted ads. But with GSuite (Google's cloud collection of enterprise office products), there was the concern among paying corporate clients that Google would mine their data as well for advertising.
This affected GSuite's ability to gain and retain corporate clients, who had concerns about their security and data. This naturally called for change, as GSuite's goal was to get more corporate into its cloud. This change however does not mean that ads will cease altogether.
Google will still continue to use data from search and YouTube to serve ads. Users, however, have the option to opt out from this.
Google's $2.7 billion in fine to EU to have bigger impact than the monetary aspect
The EU's executive branch, the European Commission, does not seem to be very pleased with the way Google displays its search results from its online shopping tools.
The outcome is that the search engine giant has been fined a whopping $2.7 billion for displaying results from Google Shopping, which the commission ruled to be anti-competitive and antitrust violation.
While the monetary fine is damaging, the challenge ahead of Google is that they will have to rework on how it handles search, including new search types (such as voice) that the search engine is gearing towards. The lawsuit also opens doors for competitors to take Google to court.
Cover Videos replace Cover Photos for Business in Facebook
With more than a billion users, Facebook is more than a social networking site. It's a common platform for interaction and networking for consumers and businesses alike.
And with videos driving almost 74% of internet traffic, it's not surprising that Facebook too has moved towards a video dominated platform for its business pages.
With the launch of Facebook Video Cover pages for businesses Facebook hopes to improve interaction between brands and their customers.
The move will also help brands to engage visitors better by driving focus to their cover video for better engagement.
Image search is bigger than you thought to be
Image search is definitely on the rise. In fact, it is estimated that almost 12.5% results are from image searches.
It is therefore obvious that one needs to rework on their plans and methods so as to understand how to rank on search results with images.
This is all the more true for businesses that require image marketing eg. food chains, clothing stores, interior and furniture stores etc. The idea is to use images intelligently to rank for image search SEO.
Google News to see change after 14 years
It's been almost 14 years since its inception and Google News is all set to revamp the desktop version of the website, primarily to remove misleading updates (with reference to the growing number of fake news) and offer more control to users.
Currently available only in the United States, a new feature call 'Fact Check' will publish updates from fact-checking websites, so as to give genuine news/results on the website.
Google News now will come with three distinct sections – the Headlines, Local news and a personalized section, For You. The algorithm change will also allow users to complain about auto-correct suggestions.
What affects News Feed on Facebook
It's commonly assumed that in order to rank in Facebook News Feed one will have to pay Facebook. But this is not the case. In the recently help F8 Summit, it was discussed as to what factors affect news feed.
While ranking content, Facebook considered two signals – (a) who a story was posted by, (b) engagement. This involves factors like frequency of post, previous interaction/reaction to post, time spent and the overall engagement the post has been able to generate.
Facebook also takes into account the pages the user likes and the network of friends, so as to make predictions for news feed.
Google My Business is bringing Posts to local businesses
Small businesses especially those that are based out of specific regions and localities can now benefit more with Google Posts. Google My Business has introduced Posts for local businesses as an easy and effective way to connect with and engage prospects and customers.
Even if a business or product is well known, people still like to go online and search for more information. So while initially, with Google Business Listing, features were limited to call, get directions, share website etc.
Posts will now allow to promote events, sign up for newsletter, make reservations easier (for restaurants), showcase top products and new arrivals, add images, have a write up of 300 words etc.
Amazon Echo to double as a home intercom
If the Echo family of smart speakers was not enough, Amazon now plans to double all Echo devices as intercom.
The feature is available across Echo, Echo Dot and Echo Show, where the devices will have to be named by room and use the Alexa app to enable drop-in features.
From a business point of view, the idea of a hands-free calling and messaging device for communication, cements the brand and its device as something every house should have.
These were some of the digital updates that June saw. While some updates might not affect your business directly, others certainly will.
Watch out this place for all digital updates in the coming months!