Reasons to hire digital marketing agency
May 31st, 2018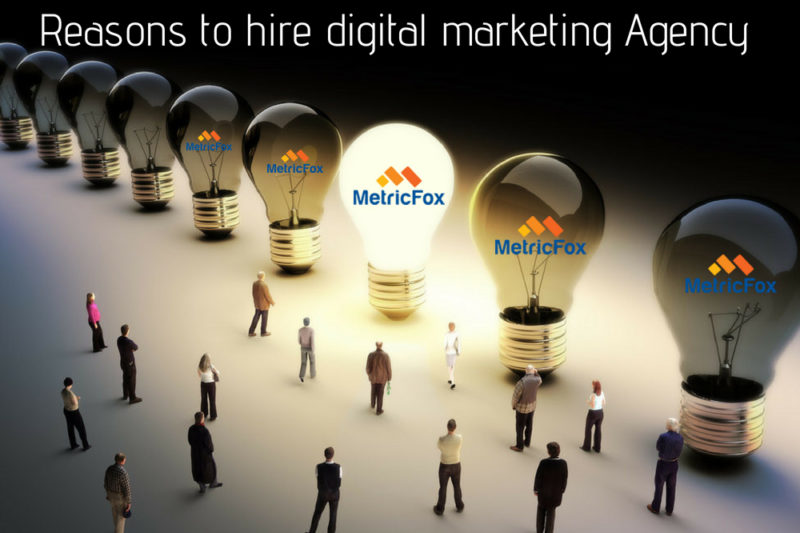 Not all businesspersons are competent enough to handle a virtual address of the company. This is the truth. Hiring a team of professionals as a part your company can turn out to be a loss in the long run due to the amount they charge, their durability and other reasons. So, why not hire a digital marketing agency? here reasons to hire digital marketing agency.
Digital marketing agencies are known for the field of expertise they work in and you've got to try it out in order to upscale online visibility and ROI in no time, at the most cost- effective rates.Check out 6 reasons why your company needs to hire a digital marketing agency now:
Definitely an affordable option
The beauty of hiring a digital marketing agency is that you have complete access and contact with the team of professionals out there. You can be open with them and let them know how you really need things. Remember, they are not your employees who'll get frustrated over time. In fact, they are perfectionists who need things done just right! Pay a more affordable amount while hiring an agency over paying each professional on a monthly basis and taking care of other expenses related to them!
Bottom line being, a digital marketing Company in USA, for example, may charge you amount XXX. However, hiring only a writer for your company will cost you XXXXXX a month! Look how expensive it gets over time?
Marketing expertise- Exceptional!
Be rest assured with regard to marketing when you reach out to brands like MetricFox, popularly known for its digital marketing. Search Engine Optimization, SEM, Content Writers, web design and developers– you name it and they can provide you with marketing trends in the branch you need!
It's risky to hire professionals. It's safer and less expensive to hire an agency because it leads to a holistic development of the website.
Consistency. Check!
Remember, digital marketing brands need to maintain a reputation and in no way can they compromise that over your or any other project they get in hand. These firms are trained to deliver just as much as needed for the benefit and growth of your website. It's impossible to handle marketing campaigns alone without the help of digital marketing agencies.
Digital marketing may seem to be a very 'chill' career to you but, it isn't. It needs consistency, accuracy and a void full of information, trending data and so on.
Updated tools and strategies
Take this, for example, you need to make videos for social media marketing along with the rest of the marketing tasks. Rather than buying Animoto and taking the risk of hiring someone who may or may not be able to create good videos using this platform, just reach out to a digital marketing brand and trust me, they'll be well aware of what and how it all has to be done in less time and more smart work.
Newer and better perspectives
You've allowing perspectives to be taken into consideration, leading to a democratic and beautifully developed company. These marketing agencies have opinions coming from experience, knowledge and definitely the exposure to the businesses and industries out there. Use these perspectives to bring out newer and better brand image and online visibility.
Access to experts across departments
Would you be able to contact 10 SEO's at a time or 5 designers or anybody more than a couple in number in a company? No. The beauty about digital marketing firms is that they work together at all times, leading to the best outcomes for businesses and websites like yours.
There's so much diversity in digital marketing and they'll help you out at lesser prices. I'd never recommend anyone to hire digital marketers separately because it's sad to tear them apart and bear the expenses as well.
Final words
Digital marketing is vast- vaster than the world, maybe because, it's taken communication to the next level, beyond VoIP, beyond face to face communication. It's all about ensuring your prospects receive the information you want them to see without any hassle at the most affordable rates.
What are you waiting for? Reach out to a digital marketing agency today!