Strategic Marketing Services proudly presents DMAi 2014
January 15th, 2014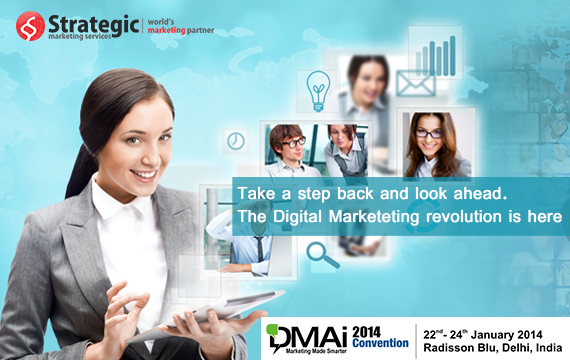 Be the Change–a tagline that runs deep into the data-driven marketing industry powers this year's edition of the largest gathering of marketers in India — DMAi 2014. This mega marketing summit, to be held at the Radisson Blu, New Delhi, India from  January 22-24, 2014, will be attended by the movers and shakers of the marketing industry.
Strategic Marketing Services is playing a key role in this event with full participation and keen interest in proceedings, which include over a span of 3 days, 15 dynamic conference streams such as email marketing, e-commerce, social media, among many others; 24 masterminds and 100 eminent speakers chairing over 164 knowledge sessions; Marketing Leader of the Year Award; DMAi Hall of Fame; and much more…
Here is a checklist of why you should not miss this event:
Strategic Summit for the C-suite- CMO, CXO and other such C-suite marketers will have all their questions answered at this all-in-one mega conference.
Marketing Leader of the Year- An annual award, it recognizes the best in the business that have generated amazing results from data driven marketing.
Master class- Get insights, tips and pure unadulterated marketing knowledge from the best with specifically crafted master classes.
Sessions- Learn about trends, changes and opportunities in the industry from leaders who know exactly what they are doing.
15 marketing streams- Choose from 15 streams that match the industry you work in and gain significantly from tailor-made sessions from legends in their respective fields.
With a substantial line up of exciting events, knowledge sharing and networking, you do not want to miss this golden opportunity. We will be there in full strength. Block your dates from the 22nd to the 24th of this month and pack your bags to New Delhi.
Be the change, be there.