Top UI/UX Design Trends That Will Help Hook in Prospects Easily
July 13th, 2022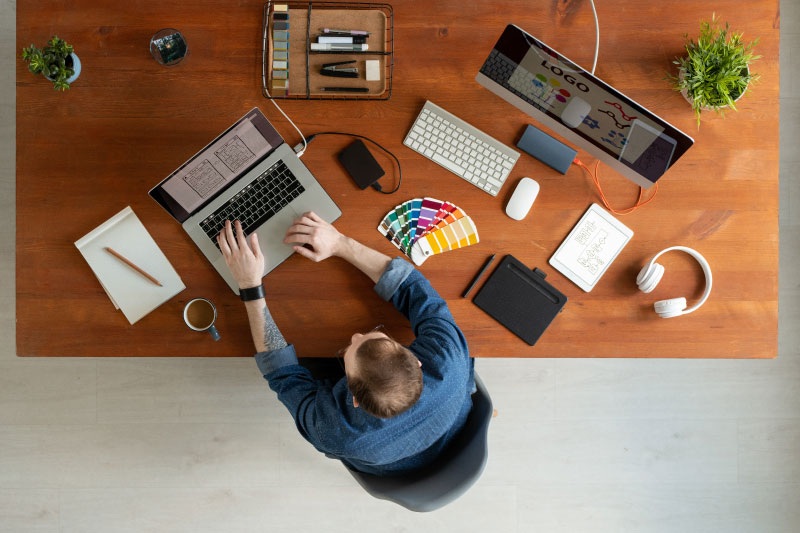 Why Should Brands Invest in UI/UX Design?
In this competitive market today, businesses largely depend on the online marketplace – their website and mobile app, to sell their products and services to their targeted, tech-savvy customers. In fact, to stick around in the prevalent market competition, the role of digital platforms in business growth cannot be undermined.
Though UI and UX designs are different aspects, they go hand-in-hand in offering an excellent user experience. The UI design will provide a pleasing website appearance, while UX focuses on effortless website performance for the user. When combined, they help brands present a good impression, allow seamless website navigation, build customer relations, accelerate ROI, and more. Whether a website or a mobile application, engaging designs help hook in more customers.
For a new customer visiting your website, their experience within the first few minutes will either encourage them to engage with your business or cause them to browse the competitor's website. According to a study by Microsoft, humans have an attention span of only 8 seconds. This essentially means you only have 8 seconds to impress the user, which can be possible with an eye-catching and systematic visual design.
When the customer finds the website attractive and can access the information they were looking for, they are more likely to stay.
What are the Top UI/UX Design Trends in 2022?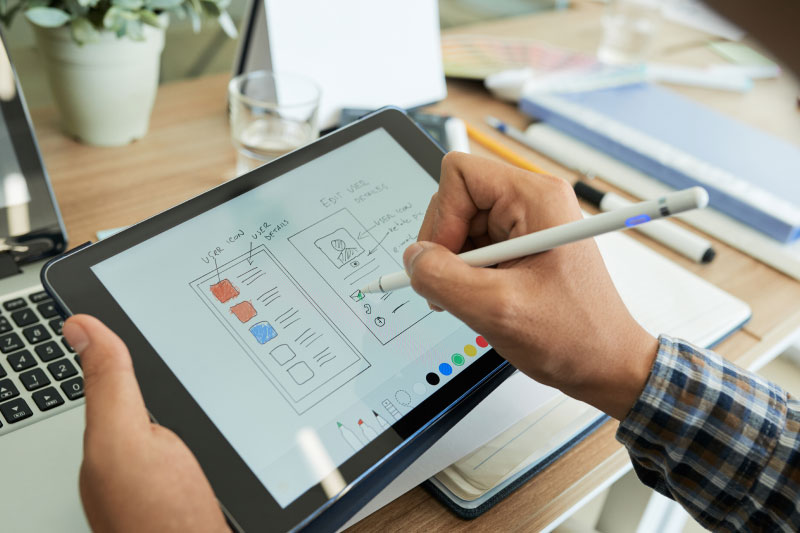 Storytelling
Stories leave a huge impact on humans and the ability to tell great stories will continue to rule. Stories have been a part of human existence since forever. In 2022, UI and UX have introduced a combination of narrative and artistic design to capture the users with 'emotional designing'.
It is no news that buying decision is largely based on emotion. And storytelling is an excellent way to evoke desired emotions and encourage decision-making. Include motion graphics, creative animation, seamless navigation, as well as bold typography in your storytelling to capture the user's attention and increase their curiosity, leaving them wanting for more.
While the design will keep them engaged, the storytelling will make them feel a part of the brand, whom they can trust.
Hyper Personalized User Experience
Personalization of user experience is a trend that is here to stay. With the abundance of accessible digital content and services, the competition is fierce, and customers are picky. So, the design trends in 2022 are becoming more user-centric. This starts with collecting customer data to segregate audience persona. Personalization focuses on-
Localization (recommending content based on user location)
Demographics (age, gender, nationality, education, among other things)
Behavioral data (user behavior on the website or app)
The goal is to bridge the gap between user expectation and actual experience, whether it is recommending movies on streaming platforms, offering personalized style guides on shopping apps, or suggesting further reads on a news website. This is what the current UI trend is about.
Voice Assistance
The development of voice UI is another intuitive trend in UI/UX design. VUIs are immensely growing in popularity. It allows users to communicate with verbal commands. This generation appreciates touchless interactions and the VUI system allows them to their devices at a faster speed.
Including voice assistance to your website/app design, can help you expand your reach. The latest devices are being set up with human language through language processing capabilities. It offers great accessibility, along with a seamless website experience. For instance, you can include voice chatbots to help your website visitors communicate and interact on the website with voice commands.
3D Graphics
3D graphics and illustrations are gaining a lot of traction and their popularity only seems to be growing. While they require a high level of creative skill and a sense of designing to include 3D components in your application and website, the benefits are numerous. In 2022, animated and 3D elements like logos, illustrations, texts, infographics, etc., will dominate the web pages, offering an immersive user experience.
3D graphics in different styles, colors, matching the characteristics of the product, can grab customers' attention with a distinct impression of the application, making it look advanced and professional.
Mobile-First Design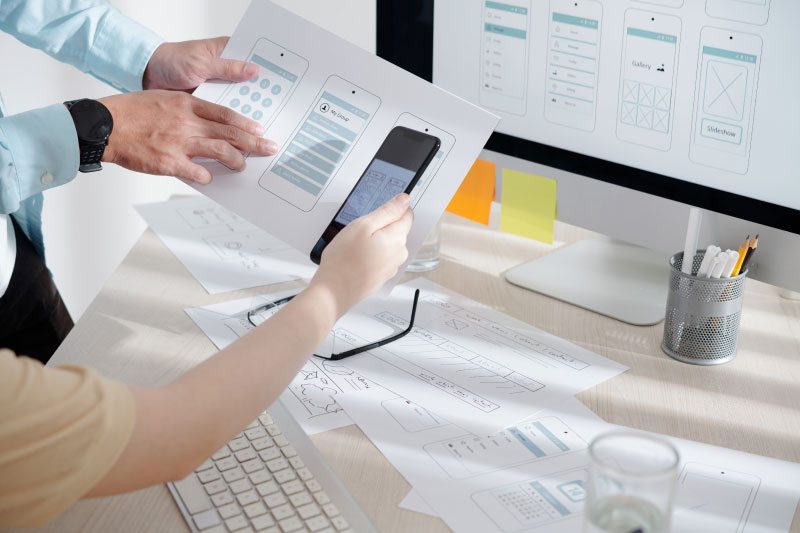 As per statistics, 91% of users go online using their mobile devices. With the increased use of mobile phones, it makes sense to customize your digital platform for these users. Have you considered mobile-first design?  It is the designing approach that focuses on UX design for a mobile user. It centers around developing the website layout for the mobile user first before creating the interface for bigger screens later.
Smartphones are the most popular medium of consuming content and a mobile-first design approach can help brands develop accessible and user-friendly websites, focusing on style and ease of navigation. This trend can help improve brand visibility and draw in more prospects through a seamless online experience.
Minimalistic UI and UX
Less is more. And the newest minimalistic trend in UI and UX design reiterates that. Crowded text, too many visual elements, overloaded with colors, might not appeal to many prospects who visit your website. Instead, users now look for simple, decluttered pages that load faster and offer relevant content effortlessly.
A minimalist design helps engage the users with monochrome, concise navigation, negative space, contrasting colors, bold typography, and more.
The Bottom Line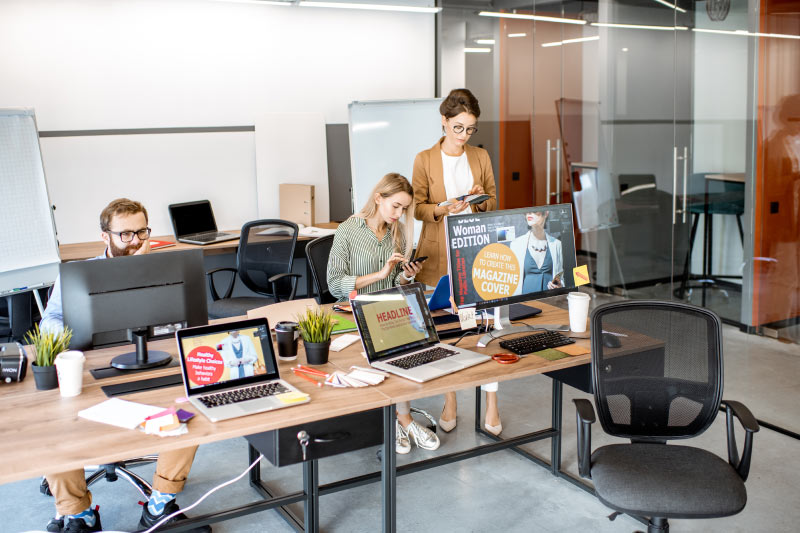 If you haven't invested in creative UI/UX design, then you're missing out on a great deal of business you can get with an immersive customer experience. In times where billions of people have internet access, your business is only meant to grow with UI designing, if done tastefully. The latest trends will concentrate on personalization, minimalistic approach, expressive typography, 3D elements, to name a few. Invest in a comprehensive design strategy and embrace these trends to offer your prospects and customers a wholesome experience.
Sujith is an expert with search & analytics enabling Top fortunes globally with growth strategies that have enabled exponential business performance. A secret to his success is his exemplary leadership & mentorship skills, constantly guiding & enabling his team to take on greater responsibilities & learning opportunities. An ardent fan of Roger Federer & a die-hard football geek, he swears by the moves of Messi. He says "A team's success is in the ability to support & trust in each other strengths. You can't get your team a goal without passing on the ball at the right time, with the right strategy in place. Be it in football or with a customer, it's the team, trust, timing & strategy that will get you closer to your goal."